The Pocket High Voltage Generator that I made a few weeks ago proved to be a very handy tool. I have been testing Zener diodes very often since I use many Zeners in 12V to 91V range.
However I wanted to give it a bit more power so that I can test Nixie tubes clearly – the previous design can only give less than 0.5 mA through most Nixie tubes, some digits don't lit up completely.
I made some upgrades to the components to give it a modest 2 – 5 mA (depending on the voltage) output. While still keeping the same form factor.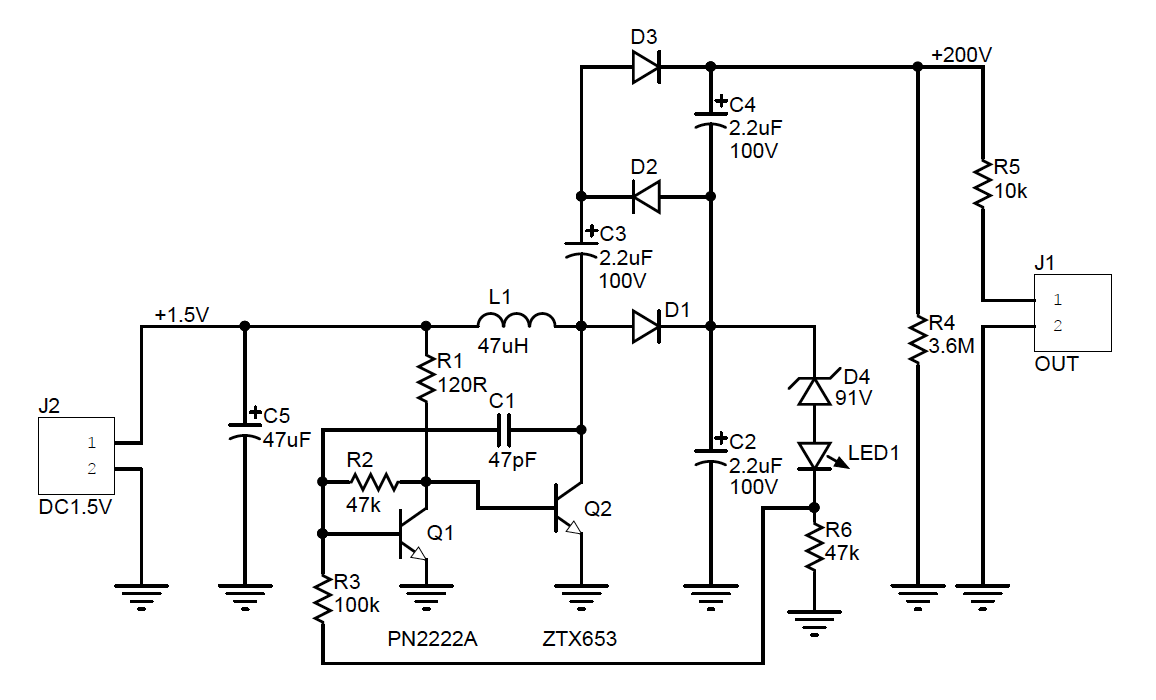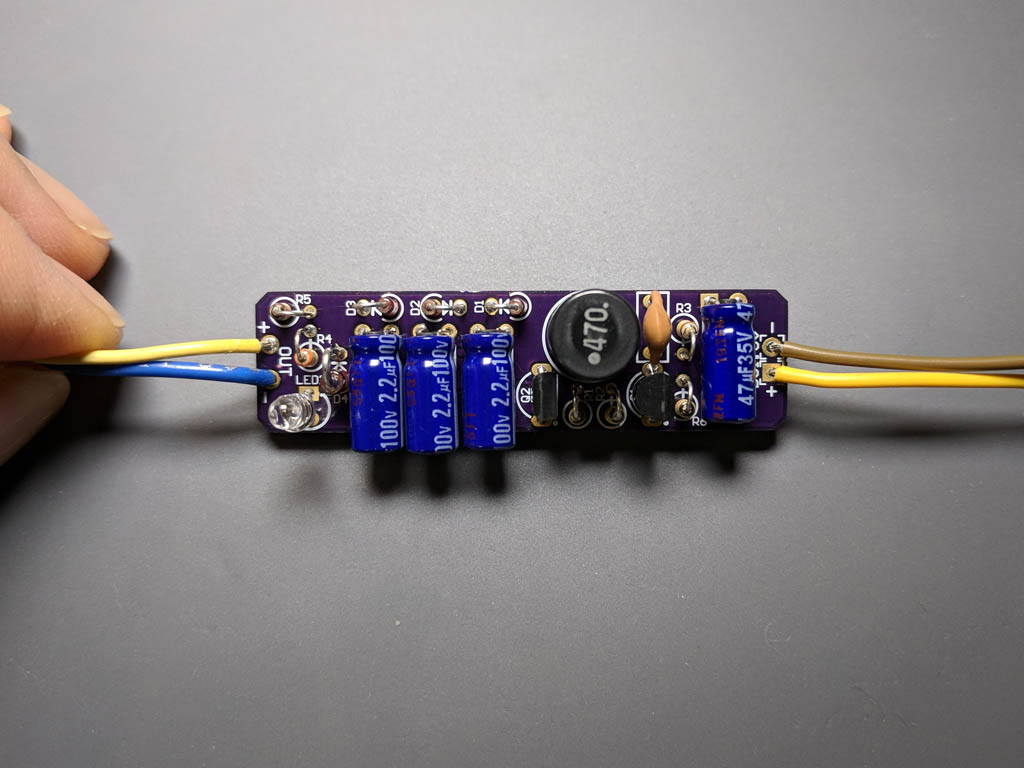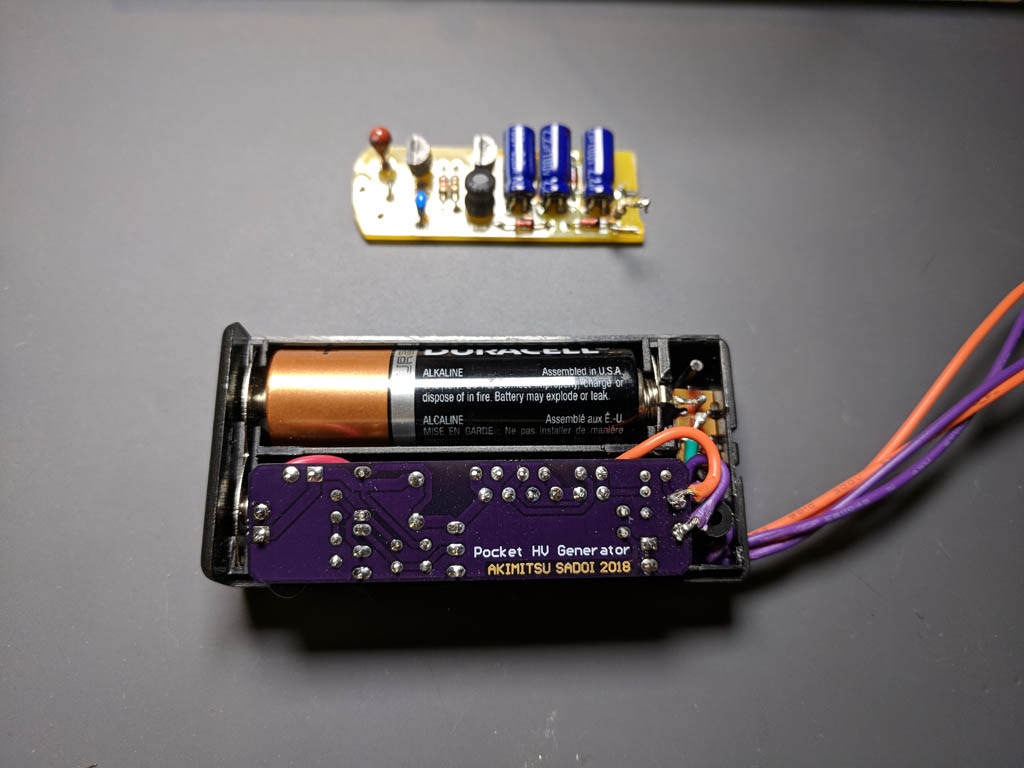 Now this circuit has enough oomph to shock you if you accidentally touch the output! Not the dangerous level, but it IS shocking. Perhaps one can use this as an electric Jack-in-the-box…
I'm sharing the PCB design of this project. Which can be purchased or downloaded via OSH Park.

---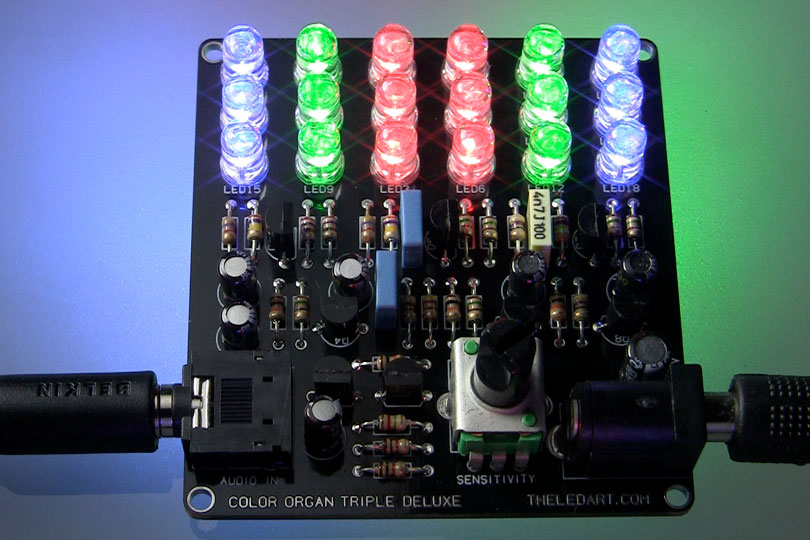 Color Organ Triple Deluxe II is the return of the classic color organ of the 70′s using LEDs. Color Organ divides sound wave into three bands; low, mid, & high, and lights different color LEDs based on the volume.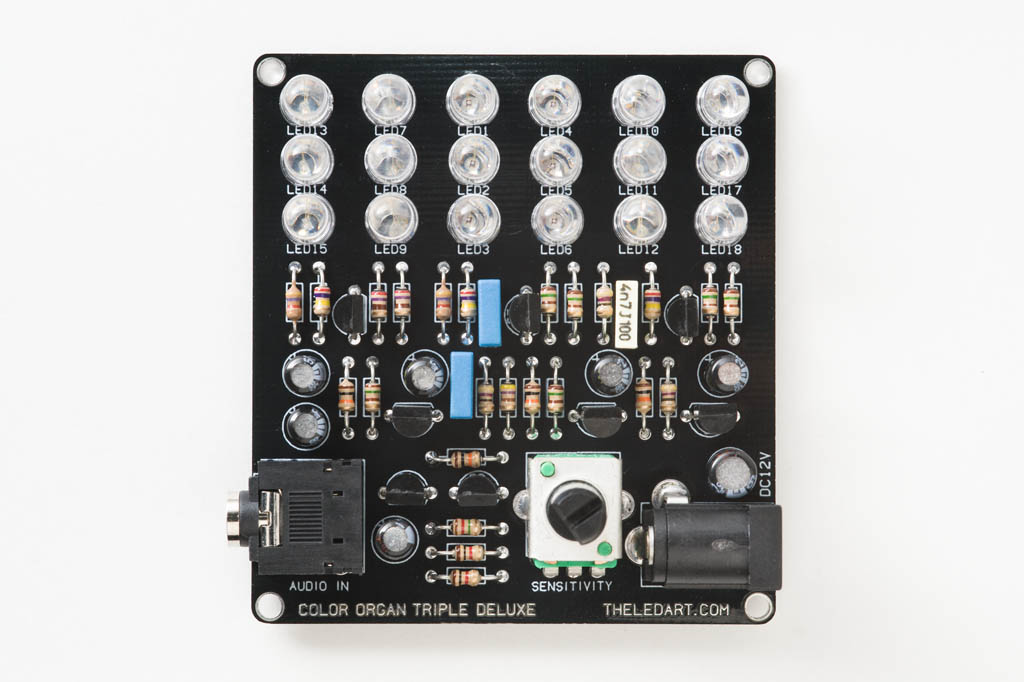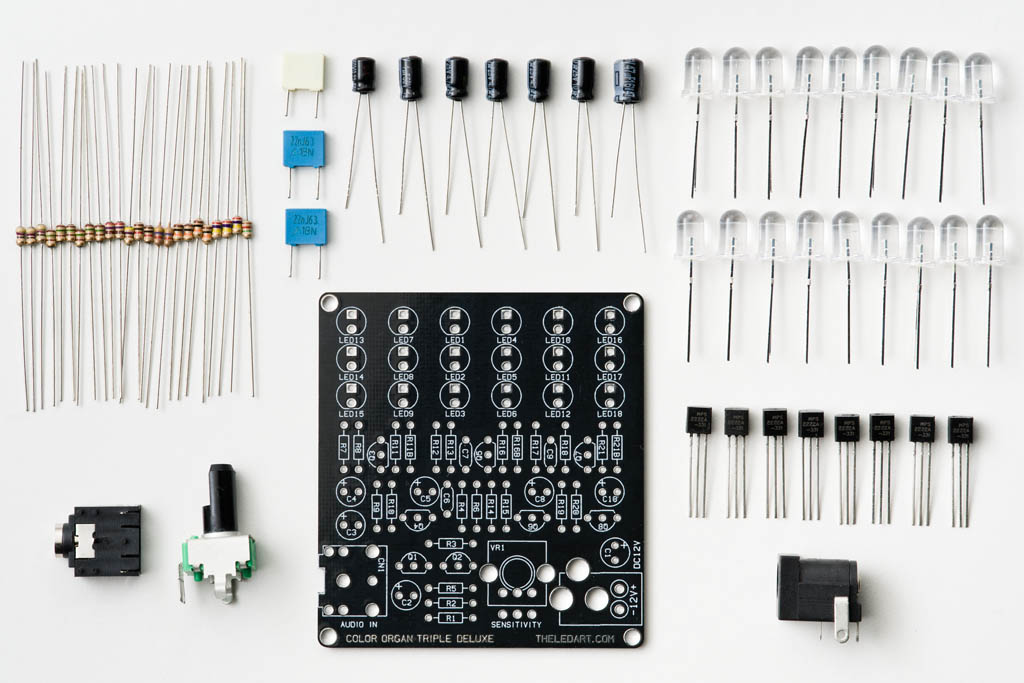 Color Organ Triple Deluxe II uses all discrete transistor circuit for authentic "sound to light" function – no ICs, no microcontrollers. Assembly is also very straightforward and beginner friendly.
- See the instructables
- Download the schematics
- Checkout the Laser Cut Acrylic Case
Kit Contents
3x 47 ohm
6x 150 ohm
2x 270 ohm
1x 470 ohm
2x 1k ohm
2x 4.7k ohm
4x 10k ohm
3x 270k ohm
1x 1.2M ohm
1x 10k ohm potentiometer
1x 4.7nF (0.0047uF)
2x 22nF (0.022uF)
1x 0.22uF EC
1x 1uF EC
3x 4.7uF EC
1x 10 uF EC 16V or higher
1x 47uF EC 16V or higher
8x MPS2222A or Equivalent
18x LED (6x red, 6x green, and 6x blue)
3.5mm Stereo Jack
DC Power Jack
Notes:
Kit assembly requires basic soldering skills.
You need a 12V DC power supply (AC adapter) (300mA or higher current capacity – such as this one) to operate Color Organ Triple Deluxe II. Use of regulated power supply is recommended, since non-regulated AC adaptors typically produce output voltage much higher than they are rated. (Typical "12V" non-regulated AC adaptors can output about 18V.) If you want to use one of those, make sure to masure the actual output voltage, and only use it if the voltage is lower than 15V. (Try 9V rated ones.)
*** Purchase Here ***
---
---