Aurora mini 18 now has three new animation patterns added. These new patterns are based on random numbers, instead of smooth transitions of original patterns. Now Aurora mini 18 has total of ten patterns for more fun.
- Download new firmware: Aurora18mini2-1.3.hex
- Purchase Aurora mini 18 -
---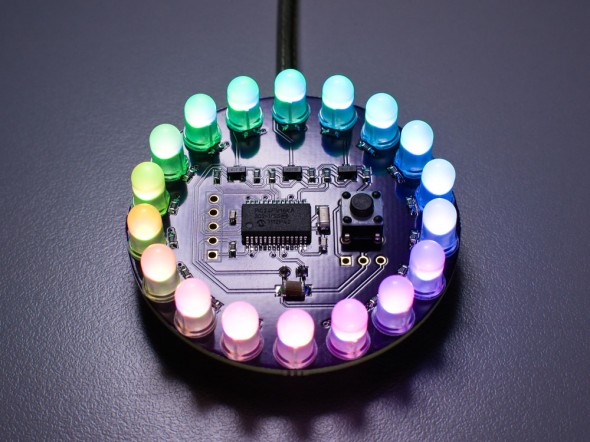 Aurora mini 18 is only 2 inches in diameter, yet controls 18 full-color (RGB) LEDs individually. The technology that enables this little thing is as amazing as the lights it produces.
Please review the instructables before purchase – assembly requires soldering skill. You will also need PIC programmer such as PICKit 3, ICD 2, ICD 3 (PICKit 2 doesn't work with the PIC used). If you don't have a programmer, you can purchase the PIC programmed with the latest firmware. (The PIC will be soldered to the PCB)
- Detailed technical information at instructables.com
- Aurora mini 18 part placement chart (PDF)
* Firmware update – download here *
*** Purchase Here ***
---
The same circuit posted before has made into a real unit.
Very smooth color changes (gamma-corrected 256 level PWM on each color/LED).
---