Here are the schematic and the BOM (Bill Of Material) for the Poorman's Buck LED driver.
Poormans_Buck_schematic-rev2a (PDF)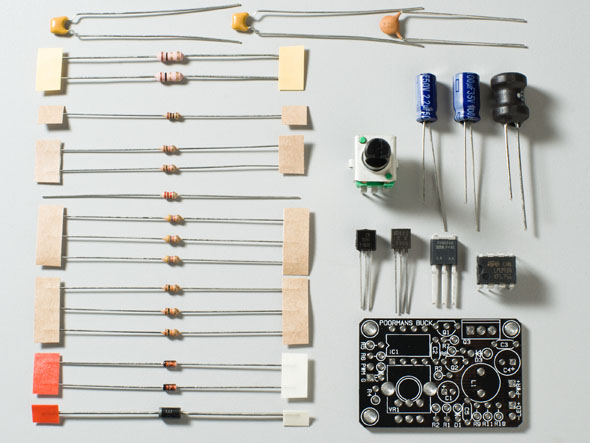 BOM
1 or 2x 1 ohm 1W – R10, R11 (use only one to get 350mA, or 500mA (with R2=2.7k) output current)
1x 10 ohm – R8
2x 1k ohm – R3, R9
3x 4.7k ohm – R1, R4, R7
3x 10k ohm – R2, R5, R6 (change R2 to 2.7k ohm to get 1A output current)
1x 10k ohm Potentiometer – VR1
1x 22pF – C5 (optional)
2x 0.1uF – C2, C3 (optional)
1x 2.2uF – C1
1x 100uF / 35V – C4
1x 47-100uH / 1.2A – L1
1x GPN (5551, 2222, 3904, etc.) – Q1
1x GPP (5401, 2907, 3906, etc.) – Q2
1x P-ch MOSFET (NTD2955 or IRFU9024) – Q3
2x 1N4148 – D1, D2
1x SB140 – D3
1x LM393 – IC1
For more information including assembly instructions, please view my instructables.
---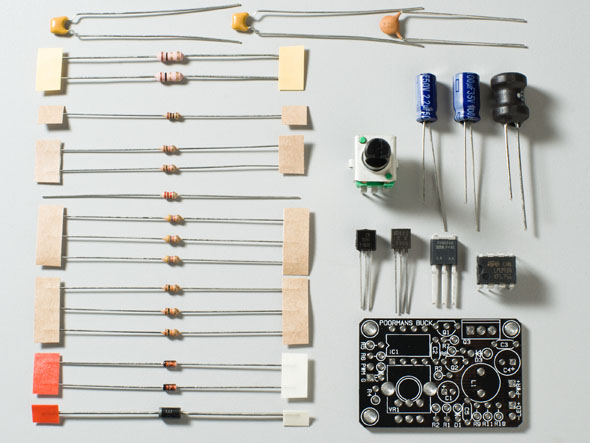 Poorman's Buck is a simple, constant-current high power LED driver capable of driving 350mA to 1A of output current. It is compact (footprint is 1 x 1.5 inches) and easy to build, yet very versatile.
Input power supply voltage can be anywhere between 5 to 20V (must be higher than the connected LED's forward voltage drop). Up to 5 LEDs can be connected in series, and by parallel connecting the series connected LEDs, up to 18W total of LEDs can be driven (with 20V power supply).
Output current is configurable; 350mA, 700mA, or 1A using included parts. In board potentiometer can lower the output current down to about 9% level – which can be used as a dimmer. Full dimming control can also be done via the PWM input, making Poorman's Buck a perfect building block for Arduino or other microcontroller projects.
For technical details please view my instructables.
You can purchase full kits or just the PCBs. Please use the buttons below to purchase.
*** Poorman's Buck Kits and PCBs are sold out and discontinued. ***
---