Poorman's Buck Schematic and BOM
Here are the schematic and the BOM (Bill Of Material) for the Poorman's Buck LED driver.
Poormans_Buck_schematic-rev2a (PDF)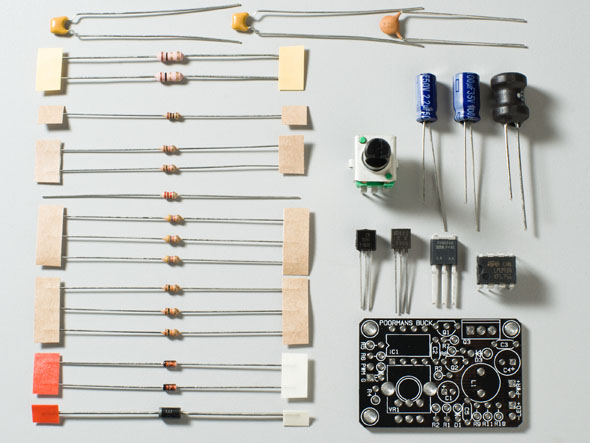 BOM
1 or 2x 1 ohm 1W – R10, R11 (use only one to get 350mA, or 500mA (with R2=2.7k) output current)
1x 10 ohm – R8
2x 1k ohm – R3, R9
3x 4.7k ohm – R1, R4, R7
3x 10k ohm – R2, R5, R6 (change R2 to 2.7k ohm to get 1A output current)
1x 10k ohm Potentiometer – VR1
1x 22pF – C5 (optional)
2x 0.1uF – C2, C3 (optional)
1x 2.2uF – C1
1x 100uF / 35V – C4
1x 47-100uH / 1.2A – L1
1x GPN (5551, 2222, 3904, etc.) – Q1
1x GPP (5401, 2907, 3906, etc.) – Q2
1x P-ch MOSFET (NTD2955 or IRFU9024) – Q3
2x 1N4148 – D1, D2
1x SB140 – D3
1x LM393 – IC1
For more information including assembly instructions, please view my instructables.