USB Blinky!
Every now and then, I feel like designing something really simple and basic. Blinkies are my go to circuit for the simple LED joy. Just ten parts and the two LEDs blink back & forth…
However I always find powering the circuit a bit of pain – if I use battery, I'd have to change the battery all the time. But using an AC adaptor is kind of messy. Then I realize that USB ports are everywhere – on my computer, on the side of my keyboard, phone chargers, etc. Being able to just plug a blinky into any of USB ports around would be fun.
So here it is, USB Blinky. I used thicker PCB material so that the PCB will fit into USB port nicely making the simplest possible USB plug.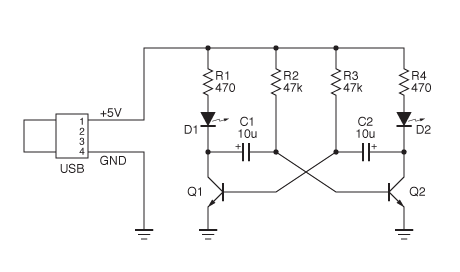 - view detailed technical info and assembly instructions @ instructables